Superfood Chocolate Squares Recipe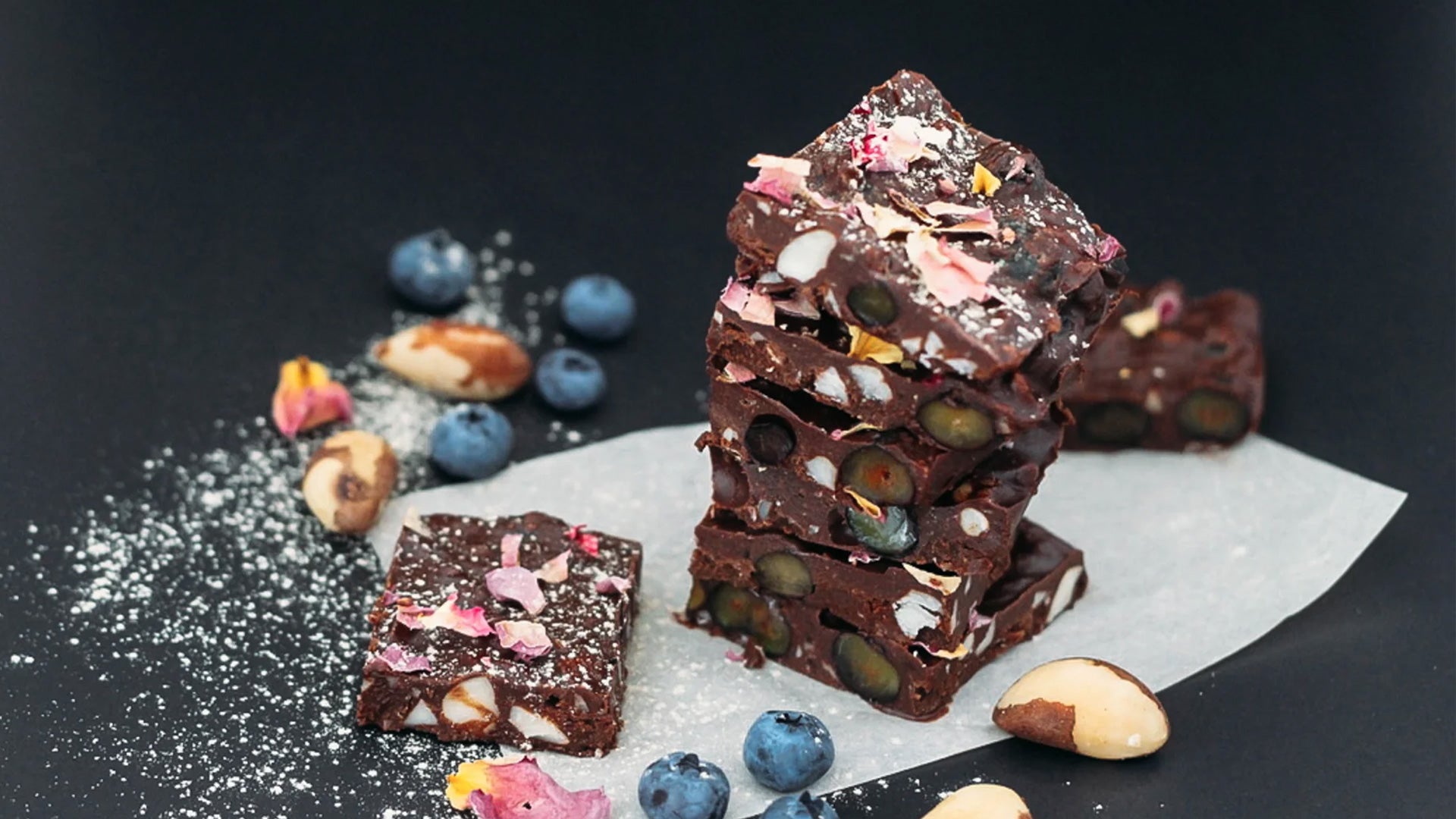 Jaclyn Irwin, also known as Holistic Foodie, is a Toronto-based Certified Nutritional Practitioner with a passion for eating whole foods and giving an honest take on practical ways to live a healthier life. Her recipes are innovative, delicious and aim to make healthy eating less of a chore. We were fortunate enough to have her put together a one-of-a-kind recipe containing ingredients that benefit skin. Read on for all of Jaclyn's tips and the how-to for making her mouth-watering superfood chocolate squares!

Radiant skin doesn't just come from creams and lotions; it's a result of the everyday foods we consume, complemented by proper hydration.
In this exclusive recipe, Jaclyn Irwin, renowned as Holistic Foodie and a Certified Nutritional Practitioner from Toronto, crafts Superfood Chocolate Squares, a mouthwatering treat designed to not only satisfy your chocolate cravings but also nurture your skin from within.
Let's delve into the skin-loving ingredients Jaclyn has incorporated in her recipe:
Raw Cacao: Rich in minerals like magnesium and high in antioxidants, raw cacao helps to block harmful free radicals in the body. Magnesium and calcium both work together to help maintain bone health. It is important to use raw cacao as this has a lot more of the antioxidants, minerals and vitamins. Once it is processed, many of these skin-loving features disappear.
Blueberries: Along with other berries, blueberries are a powerhouse of vitamins, minerals and antioxidants. They contain vitamin C (especially high in raspberries and strawberries) which are important for collagen production. They are also important in reducing the damage caused to our cells from free radicals and therefore help combat signs of aging as well.
Brazil nuts: These nuts are one of the richest and most reliable food sources of selenium you can get. Selenium is a valuable trace mineral that is often times missing or low in the diet, so by incorporating just a few brazil nuts into your diet you are ensuring an adequate supply. Selenium is an antioxidant that helps protect the skin from sun damage and helps maintain firmness and elasticity.

He Shou Wu: This adaptogen is known as a rejuvenation tonic and helps to nourish the hair, skin and nails from the inside out. It is used primarily to maintain health and youthfulness and is believed to help with hair colour as it diminishes grey hairs. It contains zinc, an essential trace mineral that helps speed up wound healing and helps with acne.

Recipe: Superfood Chocolate Squares
Ingredients:
For the chocolate:
¼ cup coconut oil, melted

⅓ cup raw cacao powder

¼ cup maple syrup (or raw honey)

¼ cup almond butter (or use another type of nut butter)

2 tbsp maca powder

2 tsp he shou wu (optional)

¼ tsp sea salt
For the filling:
½ cup blueberries (sub any other berry of your choice)

⅓ cup raw brazil nuts, chopped
Directions:
Measure the coconut oil and melt it over low heat.

Add all chocolate ingredients into a medium sized bowl (melted coconut oil through to sea salt).
Mix well with a spoon.
Add the filling options and stir once more.
Line a 8 x 8 pan with parchment paper and spread out the chocolate layer, smoothing the top out with the back of a spoon.
Place in your freezer for about an hour to harden.
Remove and slice into squares.
Jaclyn Irwin, as the founder of Holistic Foodie, aims to assist women in ending yo-yo dieting and cultivating a healthier relationship with food. Her blog, filled with delicious recipes, wellness tips, and green beauty inspiration, is a testament to her passion for blending love for food with a balanced lifestyle. 
Follow her on Instagram for a dose of wellness without obsession, and explore her creations at holisticfoodie.com.