Introducing: Face Masks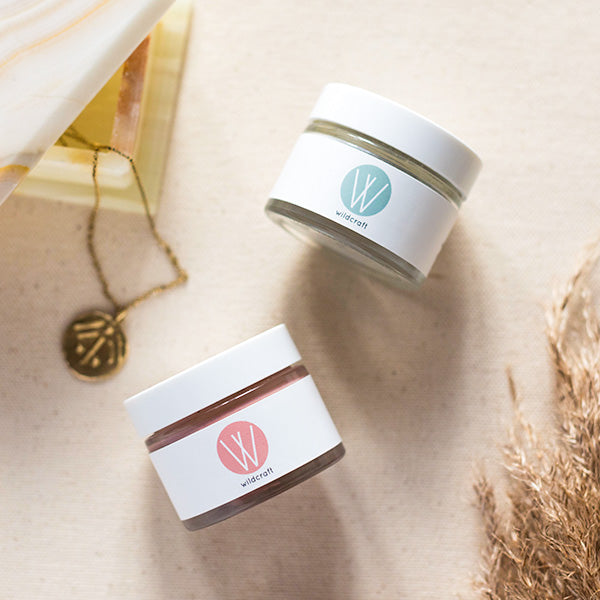 Drumroll please… They're here! Just in time for the holidays, we are beyond excited to launch two very special products. These beauties have been our most requested additions to the Wildcraft line and we've been working hard to make them perfect! So without further ado, and by popular demand, we are introducing our Detox Mask and our Nourish Mask. You are going to love both of these jars of goodness as much as we do!
Detox Mask
This powerful dry mask is packed with vitamins, minerals and essential oils that work to gently exfoliate the skin while helping to balance oil production. Cleansing and clarifying, it soothes and heals irritation or inflammation for a radiant and revitalized complexion.
How to Use
After cleansing with our Wash Oil Cleanser, make a thin paste with 1/2 tablespoon of dry mask and 1 teaspoon of water or your liquid of choice (honey for a more hydrating experience or yogurt for extra cleansing). Apply to the face and neck, avoiding the eyes. Leave on for 5-15 minutes then remove with a warm washcloth. Follow with your toner (Clarify or Balance) or serum (Regenerate or Refine) of choice and finish with moisturizer (Restore, Clarify or Calm), if desired. For best results, use in the evening 1- 2 times per week.
Nourish Mask
Hydrating and soothing, this gentle, whipped mask invigorates and strengthens the skin for a luminous glow. Fatty acids and organic honey work to stimulate and even out your complexion while colloidal oats exfoliate, moisturize and rejuvenate.
How to use
With clean, dry hands, apply a thin layer to the face and neck after cleansing and avoiding the eyes. Leave on for approximately 15 minutes, then remove with a warm, wet cloth. Follow with your toner and moisturizer of choice. Best results are obtained when used in the evening, 1- 2 times per week.
While these two masks are very distinct, the great thing about them is that they are suitable and beneficial for all skin types. For a deeper, cleansing experience, it's a Detox Mask kind of day whereas if your skin feels like it needs a boost of hydration then the day calls for the Nourish Mask.
Either way, there's nothing better than treating yourself to a bit of pampering at the end of a long day. Try them both and let us know what you think in the comment section below!