Which Face Cream Is Right For Me?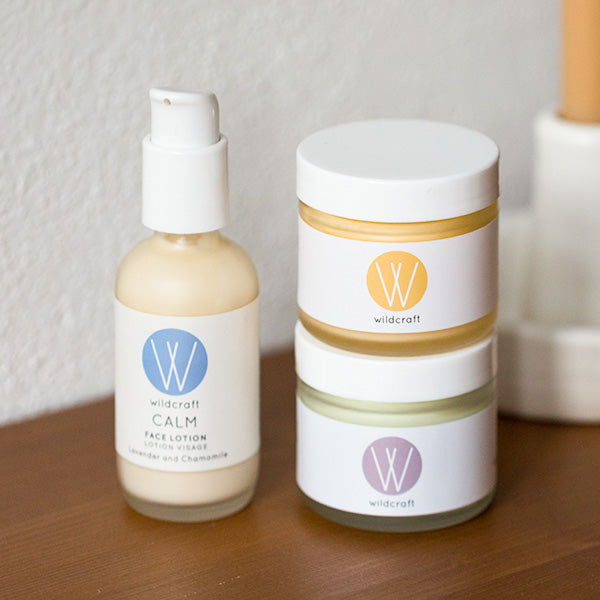 Since our beginning, Wildcraft has been producing two best-selling fan favourites: our Restore Face Cream and our Clarify Face Cream. More recently we added our Calm Face Lotion to the mix (and to rave reviews). These timeless, high-quality staples are hydrating, luxurious, affordable and of course, handcrafted in our studio.
While Our Restore and Clarify creams have a similar thick consistency, they contain certain ingredients that are geared towards different skin types. Our Calm Face Lotion has a more lightweight consistency, with powerful plant ingredients that still pack a punch. Two things to keep in mind are that a little goes a long way and, of course, always listen to your skin. Read on to learn which moisturizer is best for you, plus how and when to use it.


Restore Face Cream
Suitable for normal to dry and mature skin, our rich Restore Face Cream works wonders, providing essential moisture thanks to organic rosehip seed oil, orange flower water and geranium essential oil. The high concentration of fatty acids help to plump and firm the complexion to give it a radiant glow as well as a lovely, subtle scent.
To use, apply a pea sized amount after cleansing and toning and massage well in upward, circular motions. This cream can be used morning and night, or layered on top of a face serum, depending on your skincare needs. You may find that you only need to use it at night, or simply more often during the dry, winter months. For a complete, personalized routine for dry skin, try this set.


Clarify Face Cream
If your skin is combination to dry, a little more sensitive and prone to breakouts, our Clarify Face Cream is for you. Anti-inflammatory rosewater and aloe vera soothe the skin, reducing redness and irritation. Kukui nut oil and ylang ylang essential oil provide hydration while balancing the complexion for a calm and even appearance. 
To apply, start with a clean face. As with the Restore Face Cream, a pea sized amount does the trick. Massage onto face and neck until absorbed, in upward, circular motions. This cream can also be used day or night and layered on top of a serum. Try our complete routine for combination skin here.


Calm Face Lotion
Finally, if you have oily skin and find that your complexion looks and feels shiny, our Calm Face Lotion is what you need. Chamomile and lavender work to balance and regenerate the skin while soothing inflammation and providing a boost of hydration for a soft and matte finish. This lotion also works wonderfully for all skin types as a primer under makeup, or for a lighter alternative as needed.
A few pumps can be applied to clean skin with or without a serum, depending on your needs. Massage in upward, circular motions until fully absorbed. You can find a complete routine that's especially for oily skin here.
So if your skin is dry and mature, your go-to face cream is Restore. If your skin is more combo and sensitive, Clarify is the one for you, and if you have oily skin that can be prone to breakouts, the Calm Face Lotion has your name on it. Just remember: less is more. Do what feels best for you and if you're still unsure, you can always try a sample, take our quiz or book a consultation. We're here to help and always happy to answer all of your questions and help you with all of your skincare needs!