Powerhouse Ingredients ft. Jennifer Freitas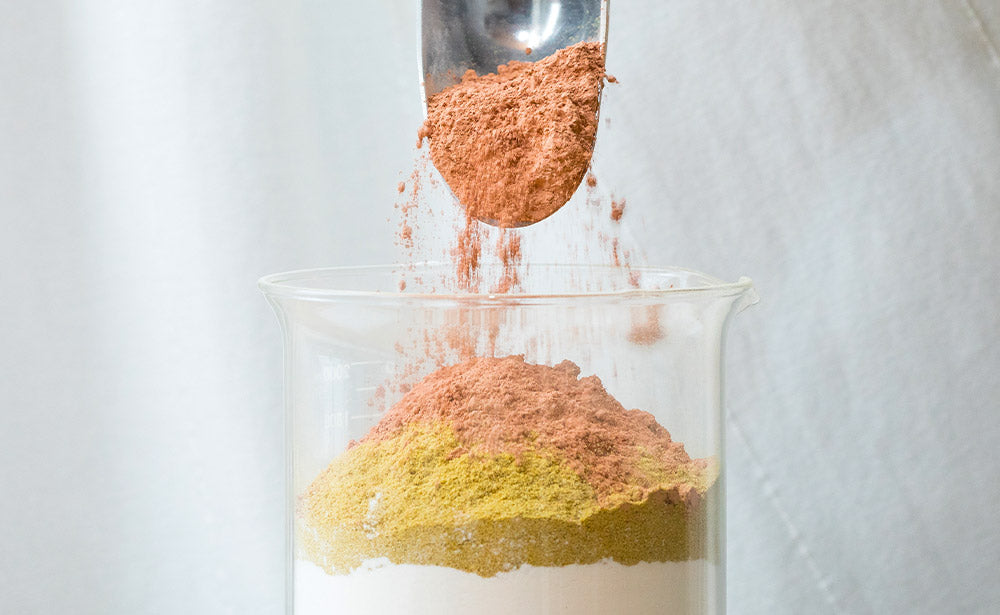 Like most of us, there's a good chance you discovered clean beauty when you heard about some ingredients found in makeup or skincare products being "not-so-great" for your long-term health. It's so important to be informed about our choices and our consumption, which is why I wanted to share some of my favourite ingredients that make clean beauty cool and exciting.
So many plant ingredients contain essential vitamins, anti-oxidants, and minerals that heal and restore our skin—without harming our earth. When buying skincare, your selection should really be based on understanding what certain ingredients can do for you - not why others are bad for you. Here are a few standout botanicals that I adore: 
Aloe vera starts my list because there is almost nothing this plant can't do. Aloe vera gel has great moisturizing properties and that's because it is rich in polysaccharides. Think healthy, plump looking skin. It can also benefit acneic skin because it contains salicylic acid, which naturally exfoliates and aids in smoothing skin. It's also rich in antioxidants and vitamins A, B1, B2, B6, and C, making it highly anti-inflammatory and anti-aging. Talk about a real work-horse! It makes super sense this stand-out ingredient can be found in both the Clarify Cream and Restore Cream, as well as both the Balance and Clarify Toners.
Avocado oil is a super fatty (but nourishing) ingredient. Restore Face Cream gets its hydrating punch from the oleic acid found in this skin-loving ingredient. It's rich with a heap of essential nutrients and phytochemicals, such as vitamins A, B1, B2, B12, D, and E, lipids, polyhydroxylated fatty alcohols (PFA's) and beta carotene. When vitamin E it's applied topically, it helps nourish and protect skin from damage caused by free radicals - a precursor to aging. Another impressive thing to note are the anti-inflammatory benefits provided by the PFA's. You can get all of these benefits in the Cleanse Makeup Remover as well.
Carrot seed oil is a star when it comes to skin firming effects. Combining skin-mending vitamin A, collagen-boosting vitamin C, and moisturizing vitamin E, this essential oil helps smooth lines and repair sun damage, scars and any other skin trauma. 40% of this oil is made up of carotenoids, a bright orange pigment that is an antioxidant powerhouse. The outermost layer of skin is especially good at absorbing carotenoids, making this ingredient that much more effective. This is why it is used in the Renew Eye Serum, to help keep the under eye looking awake and hydrated.
Squalane is a main component of our skin's surface lipids and because its molecular structure is so close to the skin's own, squalane oil penetrates deeply, without leaving a greasy or heavy finish. Squalane aids in keeping the skin clear and healthy from oxidative stress; it has shown promising results for reducing free radical damage from UV exposure. Squalane also has powerful anti-aging properties and will help the skin age gracefully, as well as anti-inflammatory benefits to help with skin conditions such as acne and eczema. The Refine Face Serum was formulated with squalane, both for it's high absorption and non-greasy finish as well as it's anti-inflammatory properties.
All the incredible ingredients I have mentioned are strongly represented in Wildcraft skincare, which is why I highly recommend the line. Its formulas are not overly complicated but they deliver the goods. The brand's products avoid fillers and instead use organically sourced, natural ingredients that make finding your perfect routine for happy skin a pleasure rather than a chore. The fresh and minimalistic packaging design, aromatic scents, and delightful textures encourage self-care and moments of indulgence, which are two things that will never go out of style.
---

About Jennifer Freitas:
The Truth Beauty Company was born out of a passion for environmentalism, a commitment to wellness, and a healthy beauty products obsession. Jennifer Freitas is the founder and president and has established herself as a leader in the field of eco-friendly and cruelty-free beauty. She thrives on splitting her time embracing all aspects of entrepreneurship as a holistic skincare consultant, avid beauty blogger, public speaker, and mother. Jennifer's goal remains creating access and awareness about luxurious, organic, sustainable formulations that perform better than conventional beauty products.