Our Must-Have Natural Travel Essentials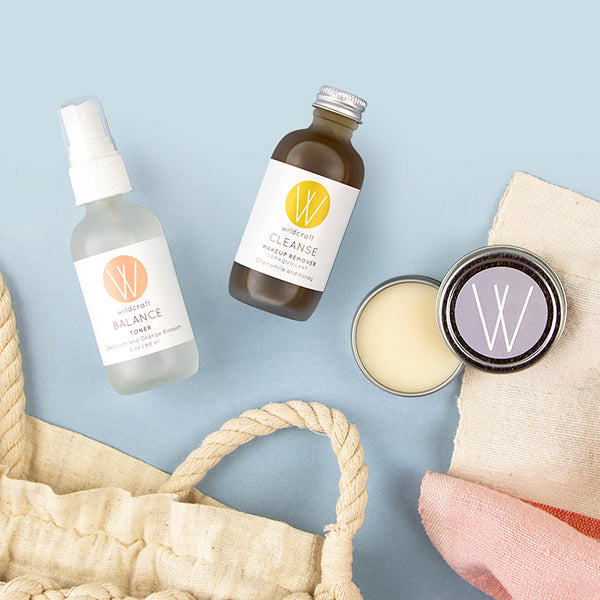 For many of us, planning a summer vacation can be a stressful endeavor in itself as there are many details to consider: Airbnb, outfits, food spots, etc. The last thing you want to worry about is not having enough luggage space for your skincare musts, or worse yet, not being able to take them with you because of TSA regulations.
To avoid any hold ups at the airport, the majority of Wildcraft products are available at a suitable travel size (2 oz. or less). These smaller items make packing a breeze as they maximize the free space in your suitcase, which means you have extra room for some holiday shopping. Another key consideration to successful (and minimal) packing is to carry products that serve more than one purpose, which will help reduce the number of containers you take.
Here are some of our versatile skincare offerings to take on your next vacation:
Toner

: The 2 oz.

toners

, available in

Bergamot Rose

or

Geranium Orange Blossom

, are the perfect travel companions for any destination. Designed to revitalize your skin, our toners will give you a fresh and dewy look at any time while on your trip. Use as a face mist during a long flight or a cooling body spray after a day at the beach. Bonus: You can even use it as a pillow mist at a hotel to help you wind down and relax prior to your next adventure.
Makeup Remover

: Our

Cleanse Makeup Remover

, available in a 2 oz. size, serves as a multi-purpose cleanser that can be used day and night. Not only does it effectively remove makeup, but also acts as a quick face cleanser, meaning you don't have to carry another cleanser if space is tight. The anti-inflammatory properties of honey and chamomile will help soothe and plump your skin, giving it a healthy glow during your time away from home.
Face Cream

: A skincare routine is not complete without a face moisturizer! Our top selling face creams, available in

Bergamot Rose

or

Geranium Orange Blossom

, are TSA approved and will provide the nutrients your face needs to lock in moisture all day long. And not only are these formulations great for the face, but they also work as great head-to-toe moisturizers, making these small jars amazing travel companions. Top tip: If you're looking for a more lightweight product, our

Regenerating Face Serum

should do the trick as it quickly absorbs into the skin for a dewy and supple complexion.
Salve

: This

All Purpose Salve

is a must for any summer trip: you can use it as a moisturizer, lip balm, cuticle cream or hair pomade to tame frizzy hair. Lavender and rose help heal rough and cracked skin on the body and face, as well as provide an extra layer of protection against the elements of any environment you may encounter. Plus, the compact packaging makes it super easy to carry around in a purse or even your back pocket.
Sample Kits

: If you want to make sure you have a complete beauty routine at your fingertips, this five piece set will have you covered for a 3 - 4 day trip. Each kit contains a face cream, toner, face and body scrub, oil cleanser and face serum, conveniently packed in a cotton bag for easy storage in your tote. 
Going on vacation doesn't mean your skincare should be compromised. Our travel sizes make it easy for you to keep up with your daily routine without having to pack a suitcase full of products. Is there a product you won't travel without? Let us know in the comments below! Make sure to keep an eye out on our upcoming journal posts and newsletters as we will be sharing more tips for this summer season.