The Benefits Of Body Oil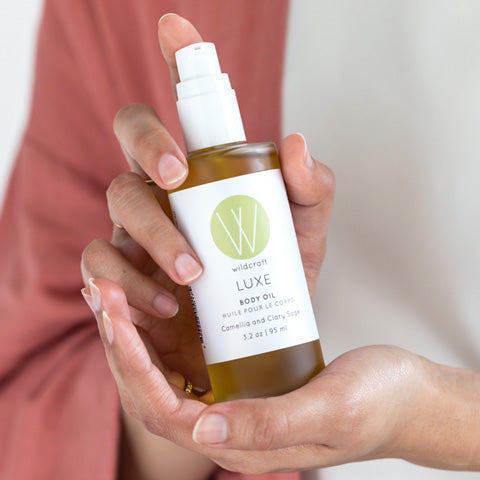 There's a reason we called it Luxe. This gorgeous Body Oil has multiple ways to be used and enjoyed but as with most of our products, the beauty is in its simplicity. Subtle and elegant, it's packed with beneficial nutrients and oils that will leave you and your skin feeling soothed, hydrated and radiant. Here are a few more reasons why we love it and how you can get the most out of it:
Versatile with Loads of Benefits
Our Luxe Body Oil can be used in so many different ways, depending on your day or your mood.
As a moisturizer:  it's light, hydrating and fast-absorbing so it won't leave a residue after applying. Alternatively, if you're in need of something richer, our

Illuminate Body Cream

is always a great go-to.

As a bath oil: adding a few pumps to your bath water is a wonderful and relaxing way to soak up all of those beautiful essential oils.

As a massage oil: sore muscles? Or just tired from a long day? It penetrates deeply and leaves skin feeling soft, smooth and revitalized.

As a fragrance: a few spritzes on your pulse points (or anywhere on the body) will give you a lovely, earthy and subtle scent that lightly lingers throughout the day.
High Quality, Effective Ingredients
Made with a blend of botanical oils and 99% organic, this oil contains high-quality, all natural ingredients that do wonders for the skin. Camellia seed and evening primrose oils both work to tackle, soothe and calm dry skin while jojoba and hemp seed oils reduce inflammation while balancing and hydrating. Rose, clary sage, vanilla and patchouli all combine to create a warm and comforting scent.
Versatile and full of nourishing, all-natural ingredients and essential oils, this luxurious oil is a staple in our bathrooms! Plus, it makes a great gift for friends and family, on any occasion. What do you think? Have you tried it yet? Let us know in the comments.