How To Oil Cleanse Properly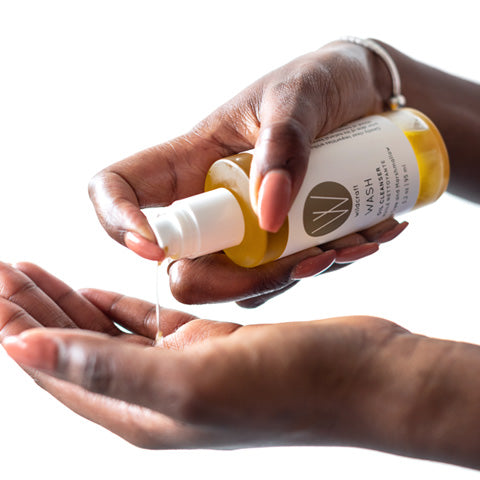 Oil cleansing has been increasing in popularity as more and more people are waking up to the beauty of using ingredients that are nourishing and effective, without stripping the skin. While the old norm was to use harsh foaming agents and detergents for that "squeaky-clean" feel, the effects were often undesirable, resulting in chronic dehydration, sensitivities and irritation. This is why oil cleansing is being embraced as a more hydrating and gentler alternative to the classic, foaming approach. 
It's also important to note that oil is highly effective at lifting impurities and grease on the skin. Even a truly oily skin type can benefit from incorporating oil cleansing, and it will leave your complexion feeling relaxed, relieved and hydrated instead of tight and dry, which is ideal for all skin types!
Our 100% organic Wash Oil Cleanser was formulated with a blend of beneficial botanical and essential oils. Jojoba and marshmallow root infused sunflower oil effectively reduce and calm inflammation while tea tree and frankincense oils work to gently clean pores and clear away makeup, dirt and grime, leaving your skin clean and nourished. 
Below are some steps to follow to benefit the most from your oil cleansing experience:
Remove eye makeup with

Cleanse Makeup Remover

and a cotton or reusable pad.

Take a quarter-sized amount of

Wash Oil Cleanser

in the palm of your hand and gently massage all over face and neck. Use circular and upward motions, and, if possible, use this opportunity to benefit from the aromatherapy of the lavender, frankincense, and tea tree (the daily ritual of self-massage helps increase circulation, cell turnover and relaxation). 

Once the cleanser has been thoroughly massaged all over face and neck, use a warm, wet face cloth and start to gently remove. Wipe until all residue is gone and your skin is feeling soft, hydrated and clean.

Another option is to dispense a couple of pumps of the oil cleanser

 into your palm, add a small amount of water, mix and massage onto face and neck. This will give the cleanser a less rich consistency. Remove in the same way (step 3).

For an extra bit of exfoliation a few times a week, mix a few pumps of oil with a nickle-sized amount of the

Buff Face and Body Scrub

. Softly apply in circular motions and gently remove with a warm, wet cloth.

Follow-up with a few sprays of 

toner

and desired

face moisturizer

to finish your routine.

Use morning and night for best results.
Many find that consistently using an oil cleanser increases moisture levels and decreases irritation from dehydration. This may result in requiring less serum and moisturizer over time. Every step in a skincare routine plays its part in contributing to the health of your skin and oil cleansing is a beautiful way to be gentle and show ongoing care. 
Have you tried oil cleansing yet? What do you think? Let us know how you've incorporated it into your skincare routine. We'd love to hear how it's working!