Summer Foods For Glowing Skin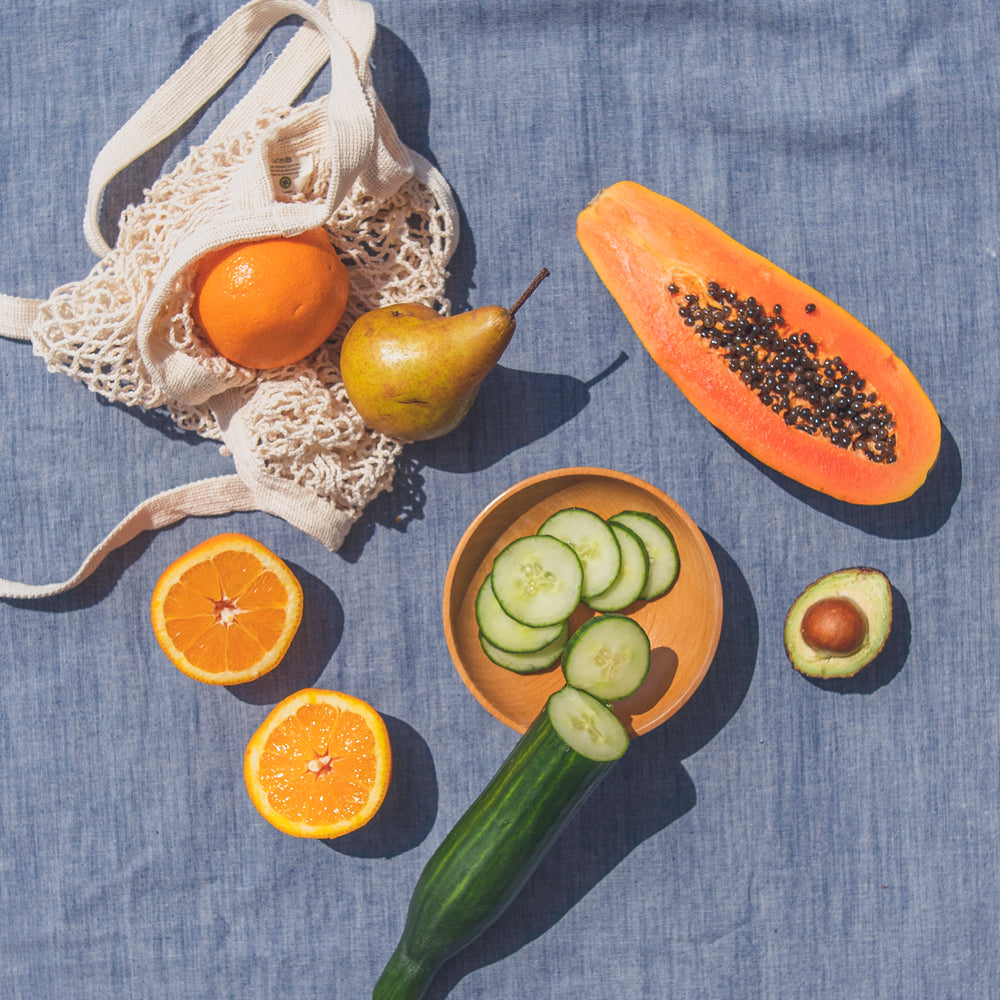 There are so many reasons to get excited for summer: long sunny days, hanging out by the water, and picnics in the park. However, one of our top favourite things about these warmer months is the plethora of seasonal foods that come to our grocery stores and farmers markets. That's right. We're talking about juicy peaches, crisp watermelons, sweet corn and the list goes on!
Filling up on summertime treats is bound to keep you happy and healthy, but did you know that they can also be great for your skin? We have asked a couple of brilliant women in our community, who are experts in all things eating, to weigh in on this topic and provide us with some summer picks that will not only taste incredible but will also help you achieve glowing skin.
AVOCADOS
Skye Moore of Vancouver Dietitians
Registered Dietitians Alexandra Inman and Stephanie Dang partnered together to create Vancouver Dietitians with the hope of sharing their passion for nutrition and health with others. Skye Moore has been volunteering with Vancouver Dietitians for 5 months, and is involved in social media management, recipe creation, photography, and blog writing.
Is the hype surrounding avocados worth it? I think yes! Along with being totally instagrammable, this delicious fruit is rich in antioxidants and healthy fats that will protect and nourish your skin. Avocados are loaded with vitamin E and vitamin C, which are both strong antioxidants that prevent oxidative damage caused by free radicals in your body. Vitamin C is also essential for making collagen, a protein that provides structure and elasticity to your skin, so avocados may reduce the signs of aging! Not only do these vitamins help to promote both youthful and vibrant looking skin, but avocados are also high in healthy fats which hydrate your skin and help it restore moisture. In addition to being delicious, avocados may actually help your skin look dewy and well nourished, leaving you with a glowing complexion! A delicious summer recipe incorporating avocados is my Vegan Nut-Free Avocado Pesto Pasta.
CUCUMBER
Rachel Molenda
Rachel Molenda is a Toronto-based Certified Holistic Nutritionist (CNP), Disordered & Emotional Eating Coach and the Host of the Fill Your Cup Podcast. Through her work, she helps women heal their relationship with food and their body to ultimately find their food freedom and break up with dieting for good. Rachel's favourite Wildcraft product is the Face Serum!
While likely the most well known for calming puffy eyes and making a relaxing face mask, cucumber has a ton of benefits for maintaining healthy skin. Made up of 96% water, it's incredibly hydrating, which is key when it comes to skin health. It also has a ton of vitamin C to calm inflamed and irritated skin. If you're going to have cucumber, be sure to keep the skins which are packed with silica to prevent sagging skin as well. Check out my Almond Pesto Cucumber Bites recipe as a way to add cucumber into your summer diet!
PAPAYA
Danielle Wiens
Danielle Wiens (C.N.P) is a holistic nutritionist practicing out of Toronto. Danielle began her career working in the food industry as a product developer, menu planner and nutrition consultant. She has since moved on to run a small private practice focused on helping individuals connect to their food. Danielle's favourite Wildcraft product is the Bergamot Rose Face Cream because she has sensitive skin, so the lightweight oils help to soothe and heal, which is perfect for anyone prone to break-outs.
When it comes to radiant summer skin, papaya is a staple for me. Like many tropical fruits, papaya is a great source of antioxidants, particularly carotenes and vitamin C, which help limits the production and damage caused by free radicals. Free radicals, such as those produced naturally when exposed to the sun, can damage skin cells. What makes papaya different from other tropical fruits is a unique enzyme it contains called "papain", which aids in breaking down protein. This enzyme helps rid the body of damaged proteins, therefore accelerating the healing process. Papaya is also a great source of fiber and water, two essentials when it comes to the body's natural detoxification processes. The way I like to incorporate papaya into my diet is with a potent skin tonic smoothie! Combine 1 cup of water, 1 cup of chopped fresh papaya, 2 tbsp hemp hearts, 1 medjool date, 1⁄2 inch piece of ginger, a pinch of cinnamon and a dash of sea salt. Blend until desired consistency is met!
ANY SUMMER FOODS YOU WANT
Tara Miller
Tara Miller is a Toronto-based Anti-Diet Nutritionist and Intuitive Eating Counsellor who works with individuals to improve their health by improving their relationship with food and their bodies. Tara is also the Founder of Health Hut, a natural lifestyle shop curated with your well-being in mind that proudly stocks Wildcraft products. Her favourite is the Chamomile Honey Makeup Remover.
My suggestion for a summer food that is good for your skin is, wait for it... whatever you enjoy eating and that also makes you feel good! I could list specific foods, but I really believe when it comes down to it - you are going to look and feel your best when you are relaxed, experiencing joy in eating and satisfied with your food choices. Sometimes, we get so caught up in the "best" or "right" thing to do, that we forget to check in with ourselves and ask what WE really feel like and what works well for us. In my opinion, one of the most positive things we can do for our skin as it relates to food, is to stop stressing about it. We have the inner wisdom to figure out what works and what works less, we just need to tap in a little bit - and trust ourselves.
We are surrounded by so much information and ever-changing opinions about what foods we should and should not eat that it's easy forget that what we consume also has an effect on our skin. We hope this post has provided you with some easy - and delicious! - suggestions to nourish your skin from the inside out. And while we encourage you to be mindful of the foods you are eating, it is also important to not spend too much energy worrying if you're doing the "right" thing. Listen to your body; if you are craving a scoop of ice cream, then go for it!