Makeup Remover, Oil Cleanser, or Both?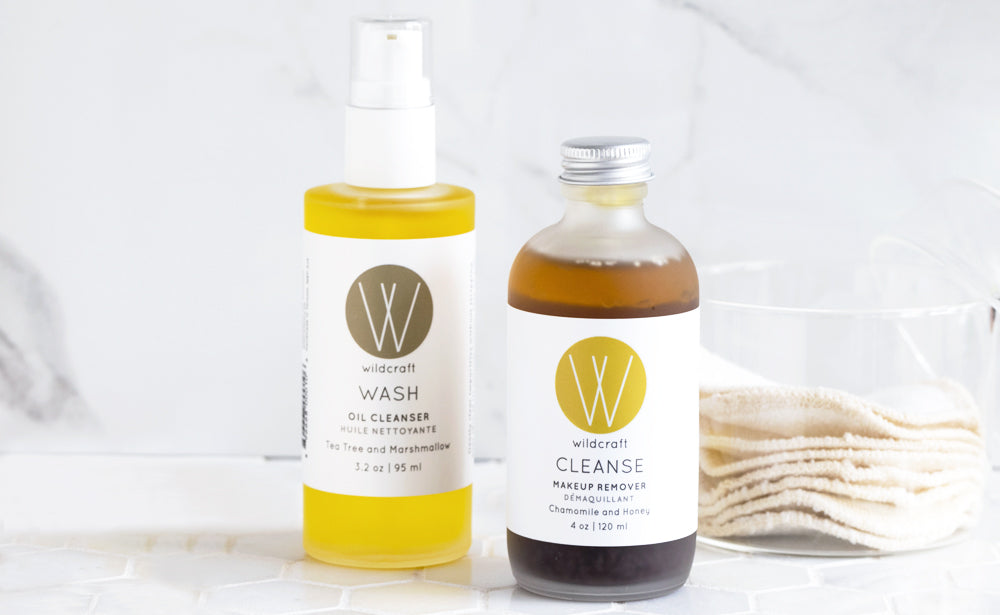 Both our Cleanse Makeup Remover and Wash Oil Cleanser are beautiful and effective products, but we get asked a lot of questions like when to use them or if you need to use both. So today, we are going to answer your burning questions about our two cleansers to help you make an informed purchasing decision! 
Q: The Cleanse Makeup Remover is different from other products I've tried. How does it work? 
A: This unique formula is made with a dual suspension of a cleansing tonic and an oil blend. In fact, it was actually inspired by an ancient formula that the Queen of Hungary used to restore her youth! The oils help to break down the makeup on the skin while the cleansing tonic wipes away both the makeup and oil without needing to be washed off. Not only does it effectively remove makeup, but this product also has anti-inflammatory ingredients to soothe the skin, and beautiful oils that nourish the skin, brows and lashes. Click here to read more about how this special product is made.

Q: How do I use the Cleanse Makeup Remover?
A: Just shake up the bottle and put it onto a cotton round (preferably reusable) and wipe it all over your face, and gently over your eyes, until all your makeup is completely removed. Use Wash Oil Cleanser afterwards to make sure your skin gets a deep cleanse.
Q: What are some other uses for the Cleanse Makeup Remover?
A: Cleanse was actually designed to be both a cleanser or a makeup remover. It is a quick and easy cleanser to use, as well as a great way to dip your toe into oil cleansing before taking the plunge. It is also great to use on sensitive areas that need a refresh such as recently waxed and shaved skin like your underarms or bikini line. The anti-inflammatory tonic reduces irritation and the oils gently hydrate the area.




Q: What are the benefits of oil cleansing? 
A: It deeply cleanses the skin, drawing out the dirt, sweat, pollution and product that has built up on your skin throughout the day, without stripping the skin of it's natural oils. Our Wash Oil Cleanser hydrates and softens dry skin, while balancing oil production and preventing breakouts for combination, oily and acne-prone skin, making it ideal for all skin types. Check out our Oil Cleansing Guide to learn more about the beauty of oil cleansing and how to make sure you are doing it correctly. 
Q: Can the Wash Oil Cleanser remove makeup? 
A: Yes it can! However, we recommend using the Cleanse Makeup Remover since it is more effective, and it's best to remove makeup and cleanse as two different steps.  


Q: Is the Wash Oil Cleanser safe to use on acne-prone or oily skin?
A: Absolutely! It is a common misconception that if you have those skin types you want to "dry out" your skin therefore helping to control oil production and heal your blemishes. That is actually harmful to your skin because it causes it to over produce oil which can lead to clogged pores and breakouts. Our oil cleanser is ideal for this skin type because it deeply cleanses the skin, washes away excess oil and has acne fighting/antibacterial ingredients but doesn't strip the skin of all its moisture. A little tip: doing a facial steam beforehand and taking your time with your facial massage allows the oil to really go deep and pull everything out of your pores to further prevent breakouts. 



Q: If I wear makeup regularly, do I need to use both products? 
A: We recommend using both products! The Cleanse Makeup Remover and Wash Oil Cleanser work very well together to ensure that all residue is removed and your skin is fresh so you can apply your other products. 
We hope that this little Q&A helped you feel confident about choosing and using our Wash Oil Cleanser and Cleanse Makeup Remover. Please feel free to get in touch with us if there are any questions that went unanswered, we are here to help. Happy cleansing!