DIY All-Purpose Room Mist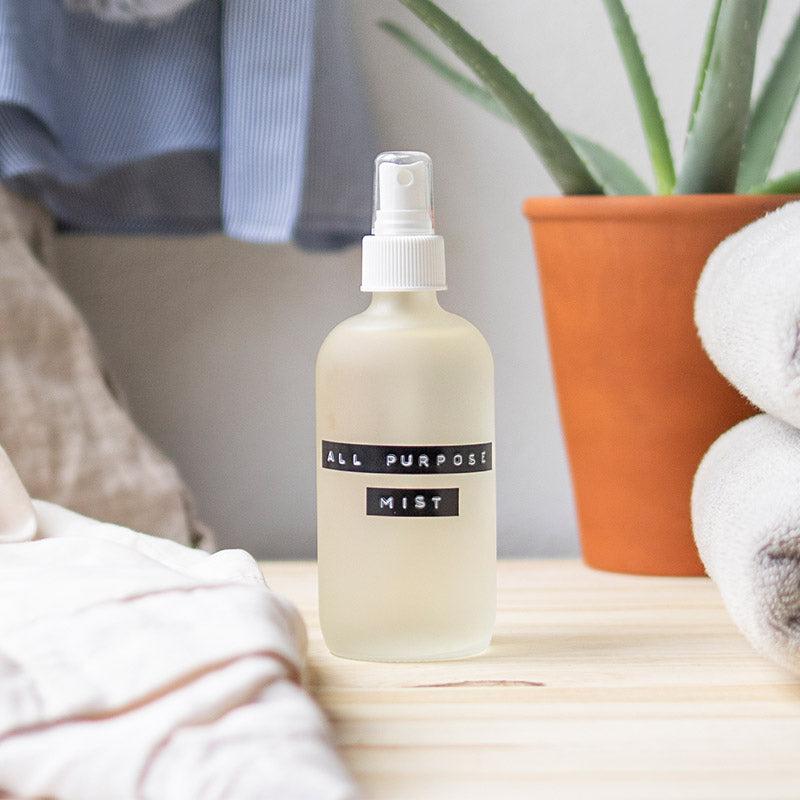 Clean living and natural skincare are becoming much more prevalent in the mainstream, and we're happy to see there are no signs of that slowing down! At Wildcraft we focus on natural skincare, but we think this attention to green products should extend to the rest of your life, as well. This is why mists are such a great addition to your repertoire. A mist is a versatile and customizable spray that can be used in many aspects of your life including as a linen spray, facial toner, yoga mat cleaner, clothing or shoe freshener, room spray, or after-sun treatment. Your options are limitless.
We've created this simple all purpose mist recipe that comes together with minimal effort, but delivers maximum impact. Witch hazel and apple cider vinegar both act as disinfectants, helping to eliminate odors, while the essential oils add antimicrobial and antibacterial properties, as well as a wonderful scent to your mist.
You will need:
8 oz spray bottle
¾ cup witch hazel
3.5 tbsp. aloe vera juice or distilled water
2 tsp. apple cider vinegar
3 drops lavender essential oil
3 drops tea tree essential oil
1 drop eucalyptus essential oil
Instructions:
Pour the witch hazel and the aloe vera juice into the spray bottle, and then add the essential oil(s). Shake the bottle to combine. Lastly, just add the vinegar and give the bottle a final shake to mix all the ingredients together. And that's it!
If you're pressed for time, our Bergamot Rose and Geranium Orange Blossom Toners are not only a great addition to your skincare routine, (spritzing before applying your serum or moisturizer can be a game changer), but they are also incredibly versatile. Pack them in your carry-on or gym bag for a quick, lightweight and refreshing spray. You can also use them to spray your yoga mat post practice, as the essential oils will provide antibacterial and antifungal properties. Linens could use a boost? Give them a spritz between washings as the witch hazel will help fight bacteria, deodorize your sheets, and keep them fresh.
Do you have a great suggestion on how to use a DIY mist or do you have a favorite essential oil combination? Let us know what you think by leaving a comment below. We would love to hear from you!