How It's Made: Cleanse Makeup Remover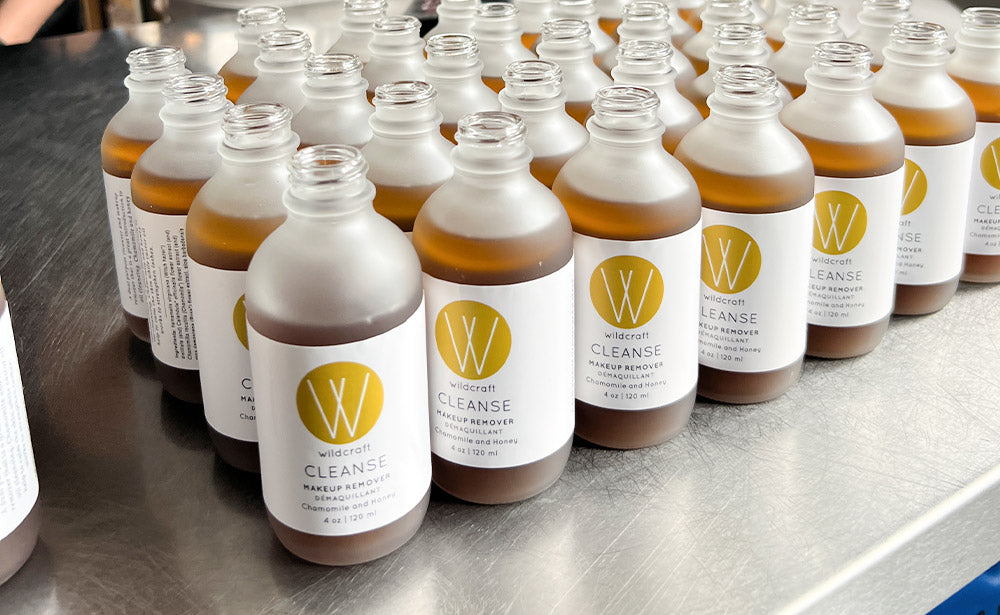 We put a lot of love into the products we create. From luxuriously rich creams to naturally effective acne-fighting serums, we handmake the majority of our products in-house to ensure every single one is perfect. Today, we're taking a deep dive into how our Cleanse Makeup Remover is made.
Finding a natural makeup remover that's hydrating, non-greasy, and—most importantly—actually works can be challenging. That's why we created Cleanse. Our much-loved formula checks off all these hard-to-find characteristics and more.
Cleanse gently and naturally removes dirt, grime, and makeup while restoring the skin's moisture balance and helping to improve lash and brow thickness. Talk about multi-purpose.

Why it's so effective lies in how it's made. So, we thought we'd take you behind the scenes to show you how our secret ingredients and meticulous attention to detail come together to make our best-selling Cleanse Makeup Remover. 
Step 1: We steep dry organic calendula, chamomile, and rose flowers in witch hazel for three days. The calming, healing, and anti-inflammatory benefits of the flowers gradually increase in concentration in the witch hazel over this time period.
Step 2: We strain the dried flowers from the witch hazel and blend in organic aloe vera juice and honey.
Step 3: Avocado oil, calendula-infused sunflower oil, rosehip seed oil, jojoba oil, and castor seed oil are mixed together and added to the steeped witch hazel. This is the final product.

Step 4: We put the formula into glass bottles, add the tops, and send them off to you!
The unique combination of our carefully-chosen natural ingredients allows Cleanse to balance, tone, and cleanse the skin all at once. The versatility of this product is actually what makes it one of our favourites.

Did you know that Cleanse can be used as more than just a makeup remover?
Use it as a face cleanser: Using a reusable cotton round, it can work like a micellar water replacement and serve as a quick and gentle substitute when you want to skip your usual cleanser and water.
Use it as a toner: After cleansing, apply it to a reusable cotton round to help combat breakouts and inflammation. Bonus: It'll add another layer of hydration under your serum or face cream.
Use it as a post-waxing treatment: The cooling, anti-inflammatory properties of our Cleanse Makeup Remover make it a great option for discouraging itchiness and decreasing redness post-wax. Apply it using a reusable cotton round to help bring relief to mild irritation.
How do you use your Cleanse Makeup Remover? Let us know in the comments.