5 Ways To Use Buff Face & Body Scrub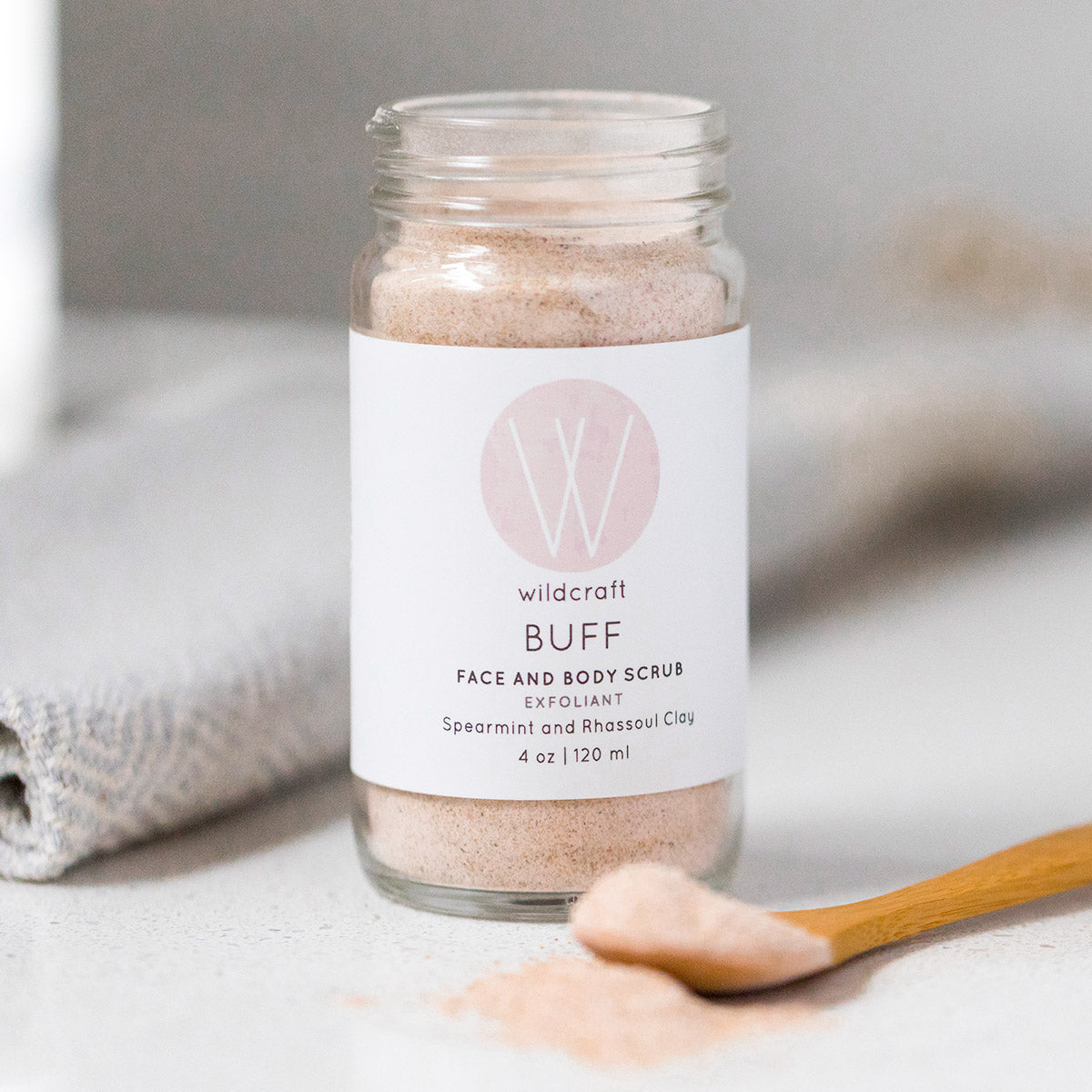 This post was originally published in July 2018.
Multi-purpose skincare is the way to go. Many of our products have several uses, and are easier to experiment with due to their natural and safe ingredients. The Buff Face and Body Scrub is a superstar when it comes to this. Gentle rice and arrowroot powders, mineral-rich rhassoul clay and smoothing apricot kernel shells work together to rejuvenate the skin and give a sometimes much needed pick-me-up. Here are some ways to get creative and get the most out of our Face and Body Scrub:
For dull and dehydrated skin, mixing the scrub with the

 

Wash Oil Cleanser

 

comes highly recommended. It can be an even gentler and intensely hydrating experience. Take 2-3 pumps of the oil cleanser, add a nickel-sized amount of the scrub, mix in your palm and softly apply in circular motions to the face. This is a great way to address rough patches that need a lot of moisture. When you finish exfoliating, delicately remove with a warm, wet cloth. Follow up with toner, serum and moisturizer.
The same approach can be used for the body. Instead of the

 

Oil Cleanser

, use the

 

Luxe Body Oil

. Pre-mix a 1:1 ratio of the scrub in a bowl (1 tablespoon of each works perfectly). In the shower, make sure to dampen skin and step slightly away from the running water when applying. Use gentle, large, circular and upward motions on legs and arms, while using a softer touch on the torso and chest. Thoroughly rinse off, pat dry, and be prepared to feel silky smooth all over!
One of the many benefits of the 

Face and Body Scrub

 

is that ingredients like nourishing clays, spearmint and peppermint oils work to help zap and reduce the appearance of blemishes. A quick trick at nighttime is to create a DIY spot treatment. Take a pinch of the scrub, mix with a spritz of the

 

Balance Toner

. Create a paste that is slightly damp, but not runny, and apply only to blemishes using a q-tip. Leave on for 10-15 minutes, gently remove and follow-up with your regular skin care routine.
The

 

Face and Body Scrub

 

is effective enough to be used on tougher and rougher areas like the feet, plus it's cooling which makes it perfect for a pedicure! Use a large bowl and fill with warm water, soak feet for 15 minutes allowing dehydrated and tough areas to soften. Take a quarter-sized amount of the scrub in your palm and massage onto each foot taking the opportunity to relax and alleviate tension. When done, rinse feet off in the water, pat dry and apply a generous amount of

 

Illuminate Body Cream

. Make sure to cover all areas including cuticles and between toes.
Lastly, the scrub is wonderful when used in the classic way which is to put a nickel sized amount in your palm and apply in circular motions on damp skin. The granules don't fully dissolve, which means a little goes a long way, and it can also be used selectively meaning you don't have to always use it on your whole face or whole body. Using it as needed and where needed can be a great tool for rejuvenation and not overworking the skin. Always remember to keep a light hand and be gentle. Finally, be careful not to get water into the container as that may compromise the shelf life of the product.
Happy exfoliating!