Changing Your Skincare Routine For Summer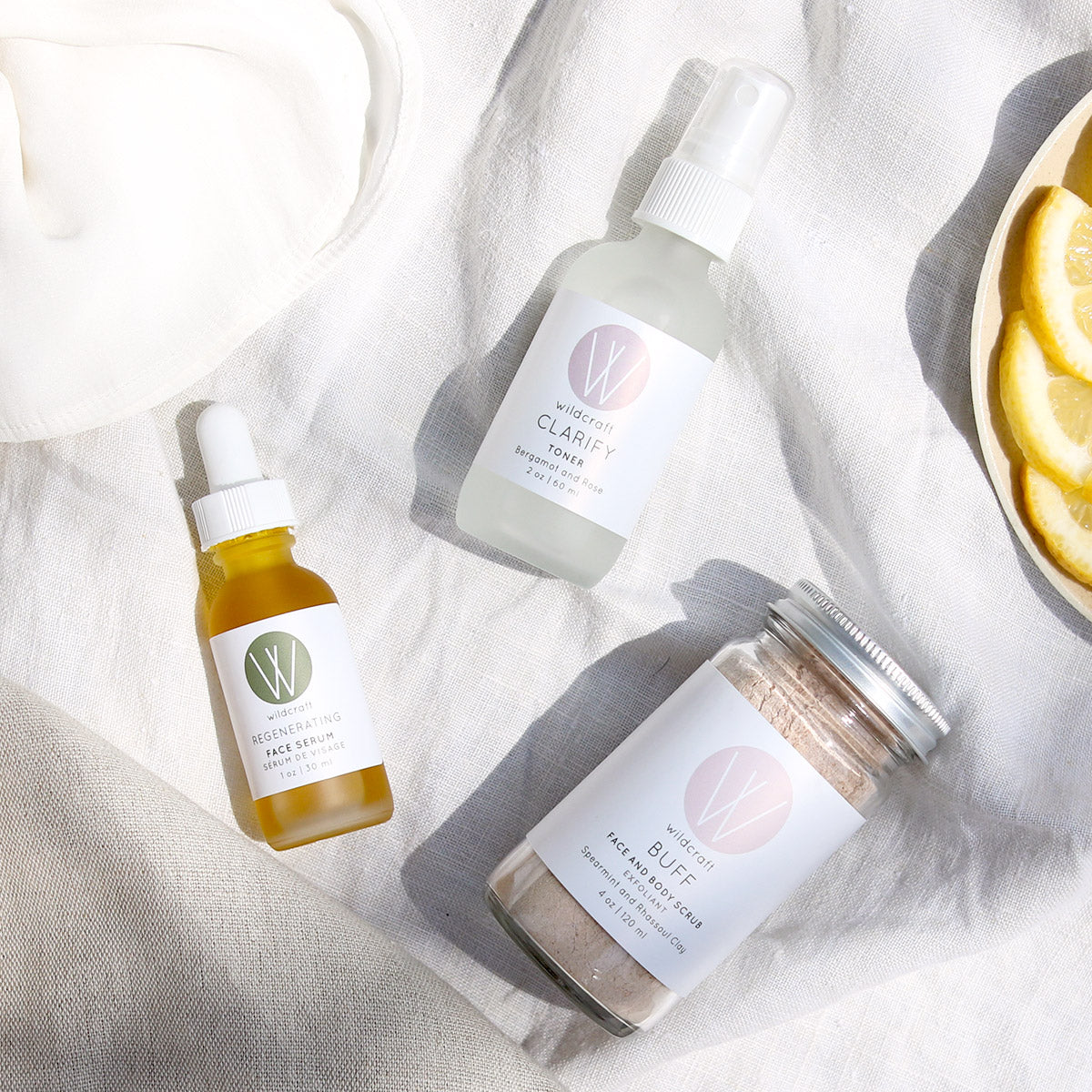 Summer's just around the corner and with it comes subtle yet noticeable changes to our skin. Much like shedding our coats, scarves, hats and mitts, we tend to lighten up on our makeup and skincare routines when the warm weather hits. As we're lightening up, we're also doubling down on our SPF application, we're drinking more water to stay hydrated and we're eating fresh, seasonal fruits and veggies full of antioxidants and rich in vitamins. While all of these things contribute to the health of our skin, here at Wildcraft, we thought we'd also share some easy face and body routines with tips and tricks to keep you glowing throughout the long, hot days ahead. 
For the Face
Step 1: Cleanse
Our gentle Cleanse Makeup Remover is a perfect, easy and lightweight option to quickly remove dirt and grime while also nourishing lashes and brows. If we're in need of a little extra exfoliation before bed, we like mixing our Buff Face and Body Scrub with our Wash Oil Cleanser for a refreshing, healthy and natural glow.
Step 2: Tone
We can't get enough of toners on a hot summer day. Our Clarify and Balance Toners provide perfect hydration while prepping the skin to better absorb moisturizer. They're also ideal for after sun with their cooling and refreshing mist. Pro tip: we keep ours in the fridge for a quick spritz and instant relief from the heat.
Step 3: Moisturize
It may sound counterintuitive but we still need a moisturizer, even on a hot, humid day. Even if your skin is super dry you might like to switch to our lightweight Calm Face Lotion and / or our Regenerate Face Serum during the day. You can mix your spf with your moisturizer to get the protection you need. Our richer face creams (Clarify Bergamot Rose or Restore Geranium Orange Blossom) can be used as a restorative evening treatment.
Sunglasses are a must to protect our eyes, but nothing soothes better than our Renew Eye Serum at the end of a long hot day outside. Bonus: it also works as a great spot treatment for pesky little summer pimples.
For the Body
Step 1: Exfoliate
Dry brush and exfoliate! Get those summer toes sparkling - they've been hiding in boots all winter so now is their time to shine! Make sure they're flip flop ready with our Buff Face and Body Scrub. We like to apply our All Purpose Salve to heels and rough patches for the full pedi treatment. You can learn more about the perfect at-home pedicure here.
Step 2: Freshen up
We all sweat more in the heat. Our Fresh Deodorant comes in two great scents (Clary Sage and Lavender and Cypress and Cedarwood) to keep unpleasant odors at bay. One of the best things about this deodorant is the easy spray on application that can be used anytime, anywhere and won't stain your clothes. We like to apply ours in the morning then take it with us for an extra boost if needed throughout the day. Pro tip: It's not just for underarms! Can also be used as a body spray or in shoes.
Step 3: Moisturize
Finally, while we are lathering our bodies with sunscreen, it's still important to ensure we're also getting enough moisture. We like to use our Luxe Body Oil during the day as it's lightweight and provides a lovely sheen. Pro tip: apply right after a shower as it absorbs quickly.
Before bed we opt for our Illuminate Body Cream to keep our skin nourished and hydrated while we sleep. 


Beat the heat and stay hydrated, nourished and refreshed with our easy summer skincare routine. Don't forget your spf and enjoy these glorious days while they last!