3 Easy Tips To Grow Herbs At Home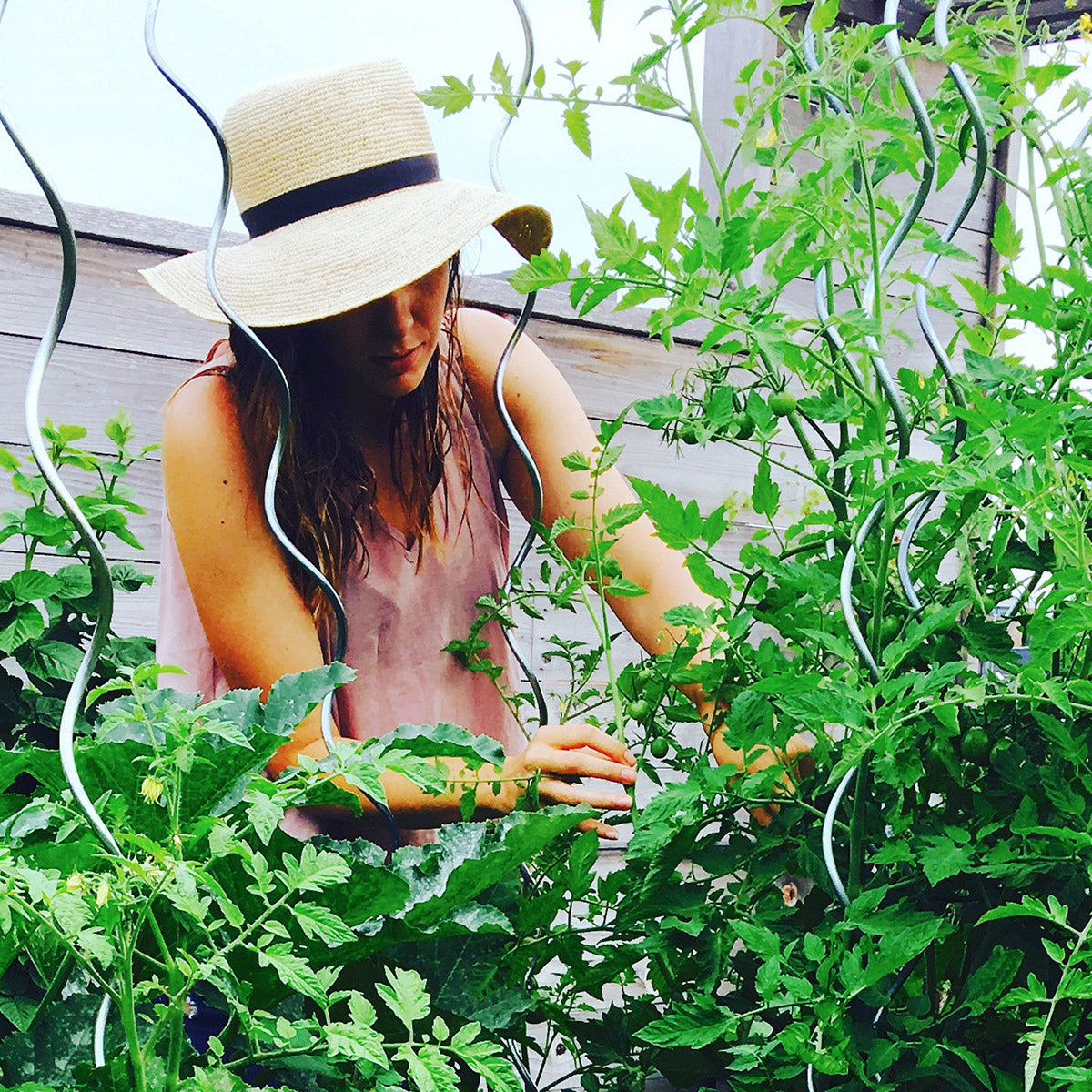 Words by Melissa Cameron of The Good Seed
With our personal and professional lives abruptly changed due to the current health crisis, this Spring has been fraught with many challenges including keeping one's immune system strong and maintaining a positive attitude. Through many turbulent times in my life, I've turned to my garden. Nothing seems quite so bad after an hour spent tending to the plants, exerting some physical labour and observing the ecosystem that exists both above and below the soil.
As a garden designer and coach, I'm often asked what to grow and why. It can be intimidating to start your first seeds indoors or tackle an outdoor space, and I suggest being patient and forgiving with yourself. Gardens are perfectly imperfect. All gardens help us connect to nature and edible gardens allow us to connect with the practice of self-reliance. Immersing our hands in the soil is a meditative and rewarding experience that has been scientifically proven to reduce stress. I can think of nothing better in these uncertain times than to embrace growing a garden and reconnecting with the nature that surrounds us.
Herbs in particular have always been a staple in my own garden as well as in client gardens. Easy to grow, versatile, pollinator friendly and good companion plants in any ecological garden, herbs are hard-working plants that deserve the spotlight. Below, I'm detailing some of my preferred herbs to grow and how I enjoy them. I've included some growing information and do note that while it is possible to grow these herbs in containers, it isn't recommended to grow them solely indoors. To start your herbs, you'll want to make sure you have a container that has drainage in the bottom of it and a very bright window that gets a lot of sun (think south-facing). You'll want a good quality potting mix like this one and you can start your seeds indoors now, in April, and then slowly take them outside for incrementally longer periods of time to adjust to the sunlight as the temperatures warm up. Also, if using herbs for culinary purposes, it's always best to try to source organically grown plants or seeds.
Lavender
Lavender; maybe one of the most pretty and aromatic of all the herbs, lavender grows best in full sun with well drained soil. While many of us are familiar with lavender in our cosmetics, I grow lavender for drying. Harvested when most of the dusty purple buds are open, I tie my lavender and hang it to dry out of direct sun. Dried lavender can be a wonderful culinary addition, used in baked goods and often complimenting lemon or earl grey flavours. It is also a nice addition to homemade teas if used judiciously as it does have a more 'soapy' note. Maybe one of the most luxurious self-care rituals that one can do with their dried lavender is add it to homemade bath products or straight into the tub with Epsom salts when going for a soak. If you're crafty, dried lavender is a really lovely when sewed into little packets to freshen up your cupboards or drawers. As lavender does take quite a while to grow from seed to harvest, I recommend purchasing lavender as a seedling and adding it to your herb collection.
Lemon Balm
Next up is another sensory pleasing favourite. Lemon balm gets my vote as one of the best herbs to grow in more northern climates and is a cheery substitute for the citrus trees we are unable to grow due to the cold. This herb is part of the mint family, and can be grown in containers so that it won't spread too aggressively. Lemon balm is known for providing a sense of calm and lessening headaches and is wonderful harvested fresh, crushed, and then added to your water. It's also a cherry substitute for mint in a mojito and can be dried and made into a calming tisane. It's even said that lemon balm leaves contain a compound that can repel mosquitoes – so crush those leaves up and use the plants' natural oils to keep mosquitoes at bay. Lemon balm seeds are small, so make sure to sprinkle them on the top of the soil and lightly cover them with a light sprinkling of soil. The plant is not tolerant to the colder temperatures, so don't move this herb outdoors until the last chance of frost has passed. Lemon balm can tolerate partial shade in your garden but will prefer full sun.
Basil
My last suggestion for a versatile and rewarding herb to grow is basil. This crowd-pleasing herb is known for being used in salads, as a garnish in savory dishes and in pesto; and while I'm not downplaying these uses, I urge you to explore beyond the widely adored 'Genovese' basil and indulge in some of the truly incredible cultivars out there. Holy basil, or 'Tulsi' is an adaptogenic favourite that is used in teas and tinctures. Thai basil, lemon basil, cinnamon basil and lime basil are all available as seeds and can be started indoors then planted out after the danger of last frost has passed. Basil also grows well in containers and should be pinched regularly to prevent it from flowering. A heat lover, start basil inside by sowing 3 or 4 seeds in your herb container and cover them lightly with soil. Basil likes a sunny spot in your garden and it makes an incredible visual and aromatic planter if you combine several basil varieties together.
These are but a few of the many herbs that can be grown and enjoyed by the home gardener. As we strive to stay healthy and spend more time in our homes, gardening and growing our own edible fare is without doubt a wonderful way to be present in the moment and to commune with the earth. Should you have any questions about seeds, herbs and gardens, please don't hesitate to reach out to me on Instagram @thegoodseedto or through my website, www.thegoodseedto.com.
Wishing you well,
Melissa xx
---

Seed Resources:
www.matchboxgarden.ca
www.uharvest.ca
www.seedsofimbolc.ca
www.hawthornfarm.ca
www.apocryphalseedco.com
www.westcoastseeds.com
---


About Melissa:

Melissa Cameron is an Organic Master Gardener and Founder of The Good Seed. She is passionate about the connection between human health and nature and believes that regenerative gardens can help create food security and broaden ecological diversity. Melissa spends her days as a garden designer and coach. She has been featured on Farmer's Footprint, has been a guest speaker at Allan Gardens and is a garden expert online and in person.